National Mission for Clean Ganga, Ministry of Jal Shakti is organizing a National Online Competition as an Annual Art = Festival in collaboration with Kalantar Art Trust.
Our life starts as a white canvas. It gets a background color from our family. Our surrounding act as different colors. Our actions are coloring brush with which we give strokes to color your life to a beautiful painting.
KALANTAR 2021 is an opportunity for every artist, writer, singer, actor to put an everlasting stroke of impressive performance and be the champion in his own field of art.
Aim of the Competitions
These art competitions aim to:
provide a platform to youth and school children to demonstrate their artistic skills.
help people revisit the art, culture and history of India and connect them with the importance and freedom through the underlined theme of Azadi Ka Amrit Mahotsav of various competitions during the festival.
List of Competitions:
Painting
Writing
Music and Song Composition
Play and Nukkad Natak
Any One Participate (all age group)- The Entry is Free of Cost in the Competition.
After Successful Login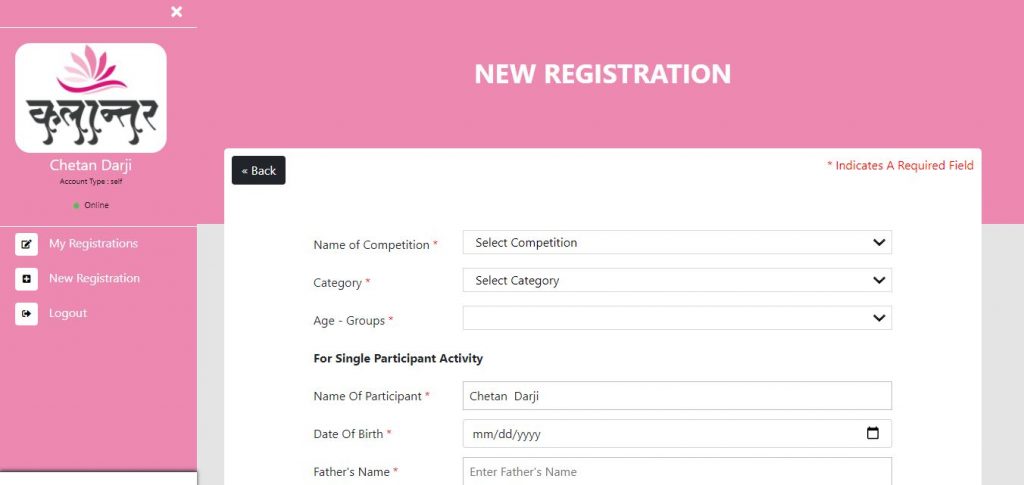 Welcome dear participant!!!!
A website is not as intelligent as a human being. It can't check the correctness of all the data filled by you. Thus, it is expected that as a participant you fill all the data correctly and check the details before submitting.
Kindly read the instructions below before you proceed for registration –
1. Please click anywhere on the center white screen and then you can scroll up and down the screento see and fill the complete form.
2. While you sign-up on the Kalantar website you can choose your category as "SELF" who wants submit his own participation OR you can sign-up as "FOR OTHERS" if you want to do multiple registrations for your students.
3. An individual participant can register for only once in a given category. Participant can't change his age group for making multiple entries for a given category. Else the participation from all the categories shall be rejected. For category of painting if you have submitted entry in any age group of non-professional artist you can't submit entry for professional artist.
4. You will be considered as a professional artist only if you have a professional degree or 4 years Diploma in the field of art.
5. All your personal details(i.e. Date of Birth, Father's Name, Mother's Name, Address, Pin Code, Mobile Number, Email ID, Alternate Mobile Number, Alternate Email ID) must be submitted correctly and in their correct format. (for example your name can't contain numbers or special characters). If you will fill junk data in any of the field your entry is liable to be rejected and we may not be able to reach you in case you are selected.
6. Incase you have signed up for self / individual then you are not supposed to change your Date of Birth to make entry into a category for which you are not eligible, else your entry is liable to be rejected.
7. Incase you have registered as an individual participant and you want to participate as a group in group activity like Music or Drama then you may enter a different name of Group Leader.
8. Painting and writing are Individual Activities and Music composition and Drama are Group Activities.
9. In Music Composition activity you are supposed to write lyrics on any of the given topics in the given age group and then compose a song with music to those lyrics.
10. In Drama either you can enact any of the given topics individually or otherwise you can make enact a nukkadnatak, play etc. in a group.
11. For various categories of Painting and Writing you have to attached your entry (i.e. painting or writing) in JPEG or PDF format only. No other format will be accepted. The PDF or JPEG file size must not exceed more than 5 MB.
12. For various categories of Music & Drama you must put your entry video in your Google Drive and share it with [email protected]. You must then share the link of the Googledrive in the text box against the URL/Link field. Along with sharing the URL / Link of your Google Drive you must also take a screenshot of the screen that confirms that you have shared your Google Drive file/folder with [email protected] with rights as Editor.
13. For Music & Drama entries length of video should not be less than 3 minutes and should not be more than 5 minutes and the same must be in MP4 format only.
14. Entries found copied from any pre-existing similar work available on the internet or social media are liable to be rejected. Kalantar Art Trust's decision shall be binding in this regard and no complains shall be entertained.
15. Once you have submitted an entry, you can edit only attachment and URL. No other data shall be editable.
16. Incase you are a teacher and submitting for your students then you can register multiple participants and submit multiple entries. But once the entry for a participant is submitted then you will not be able to edit the participants details. If you want to correct the participant's details you can delete his previous registration and make a fresh registration for that participant.
17. Being a huge competition, it is not possible for the organizers to handle queries on phone calls. In case you have any queries then you may get in touch with us on email us at [email protected].
18. Incase you are not able to understand the process then follow our Facebook
Page https://www.facebook.com/artkalantar/ and subscribe to our YouTube channel https://www.youtube.com/kalantarart to keep yourself updated.