Background: The 'National Means-cum-Merit Scholarship Scheme' (NMMSS) is a Central Sector Scheme launched in May, 2008 to provide scholarships for meritorious students of classes IX to XII. The scheme is on-boarded on the National Scholarship Portal (NSP).
Objective: To award scholarships to meritorious students of economically weaker sections to arrest their drop out at class VIII and encourage them to continue their study and complete secondary stage.
Coverage: The scheme envisages award of one lakh fresh scholarships every year to selected students of class IX and their continuation/renewal in classes X to XII for study in a State Government, Government-aided and Local body schools under the scheme.
Scholarship Amount: An amount of Rs. 12000/- per student per annum. The rate of scholarship has been enhanced from Rs. 6000/- to Rs. 12000/- per year with effect from 1st April, 2017.
Eligibility criteria to appear in NMMSS selection test:
Students whose parental income from all sources is not more than Rs. 1,50,000/- per annum are eligible to avail the scholarships.
The student must have minimum of 55 % marks or equivalent grade in Class VII examination for appearing in selection test for award of scholarship (relaxable by 5% for SC and ST students).
The student should be studying as regular student in a Government, Government-aided and local body schools.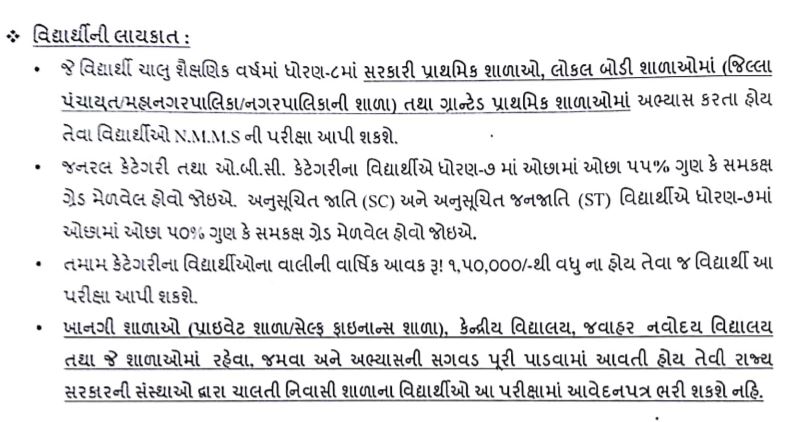 Date Schedule: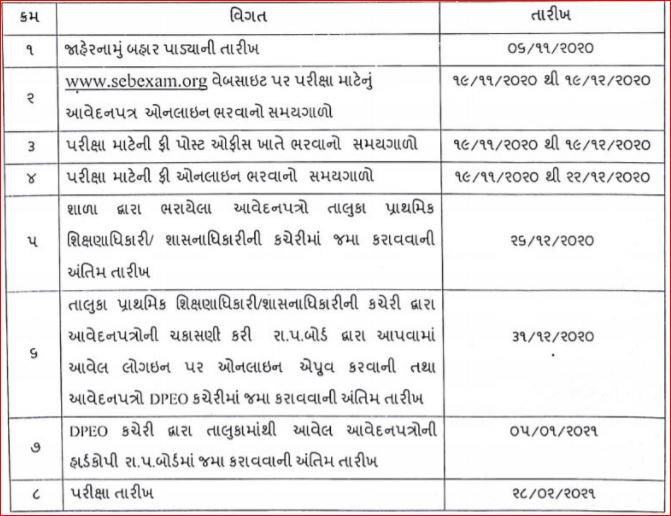 Who all are not eligible?
The students studying in "Kendriya Vidalayas and "Jawahar Vavodaya Vidlayas" are not entitled to get scholarship under this scheme.
Similarly, those students studying in Residential Schools run by the State Government Institutions, where facilities like boarding, lodging, and education are provided and students studying in private schools are also not eligible for the scholarship under this scheme.
Official Website
Selection of Fresh Awardee Students:
NMMSS selection test is conducted at stage of class-VIII.
Each State and UT conducts its own test for selection of students for the award of the National Means-cum-Merit Scholarship. Due publicity is given by the State and UT regarding the test. Interested eligible students may contact State Nodal Officer for details.
A student who fulfills the eligibility criteria must pass both the tests, i.e., Mental Ability Test (MAT) and Scholastic Aptitude Test (SAT) under NMMSS with at least 40 % marks in aggregate taken together for these two tests. For the SC/ST students, this cut off is 32% marks.
Exam Pattern
The pattern of written examination will be as follows. The examination will comprise of two parts, namely
Mental Ability Test (MAT)
Scholastic Aptitude Test (SAT), This consists of 8 subject – Physics, Chemistry, Mathematics, Biology, History, Geography, Civics and Economics.
| | | | |
| --- | --- | --- | --- |
| Test Type | Marks | No. of Items | Duration (in minutes) |
| MAT | 90 | 90 | 90 |
| SAT | 90 | 90 | 90 |
Each question carries 1 mark.
All questions in the booklets are objective type.
Selection of Renewal Awardee Students: The awardees should get minimum of 55% marks in Class IX and XI, and a minimum of 60% in Class X for continuance of scholarship (relaxable by 5% for SC/ST candidates).
The NMMSS Scheme has been on-boarded on National Scholarship Portal (NSP), which has been developed by Ministry of Electronics and Information Technology (MeitY) for streamlining and fast tracking the release of Scholarships across Ministries / Departments with efficiency, transparency and reliability.
NMMSS Process under NSP:
To apply for NMMSS, students from different States and UTs, who have qualified in the MAT and SAT under NMMSS must register themselves on NSP.
The applications are verified online on the portal by the prescribed State authorities.
The final list of eligible candidates, complete in all respect, is provided to the MHRD by NSP Team for sanction of the scholarship.
The Ministry of HRD thereafter sanctions funds and releases to State Bank of India (SBI), the implementing bank for the Scheme.
The SBI disburses the scholarships to students directly by electronic transfer into their bank accounts under Direct Benefit Transfer (DBT) through Public Financial Management System (PFMS).