The 6th India International Science Festival 2020 (IISF 2020) is being organized by the Ministry of Science and Technology, Ministry of Earth Sciences & Vijnana Bharati (VIBHA) from 22nd to 25th December 2020 in New Delhi through virtual mode and is being hosted by the Council of Scientific and Industrial Research-National Institute of Science, Technology and Development Studies (NISTADS), New Delhi.

IISF provides a platform for young scientists, students, and technocrats to exchange knowledge and ideas.

The theme of IISF-2020 is 'Science for self-reliant India and Global welfare to support the Government's initiative of making Atmanirbhar Bharat'.

Inspite of the pandemic situation due to COVID-19, the IISF-2020 is being organized, which signifies the indomitable spirit to celebrate scientific temper and motivation to involve the common masses to improve their scientific understanding, temperament, and appreciation towards various Indian achievements in the field of Science & Technology.

For details regarding participation,
The step-by-step guidelines for attendees are at Annexure A. All the Principals of the schools affiliated to CBSE are advised to attend IISF-2020 through the conference website and also encourage their students to take benefit out of this event.
STEP BY STEP GUIDELINES FOR ATTENDEES
ON THE DAY OF THE EVENT

FOR REGISTERED ATTENDEES
Visit scienceindiafest.org
Enter your Registered Email Id
Click on Login
Follow the guidelines as below to navigate through the IISF platform

FOR ON SPOT ATTENDEES / MEGA EXPO VISITORS
Visit scienceindiafest.org
Click On Spot Registration or Mega Expo Options
Enter your Name and Email Id
Click Submit and you will be entered in the IISF platform
Follow the guide as below to navigate through the IISF platform
VIRTUAL PLATFORM & ZOOM INTERACTIVITY GUIDE FOR THE ATTENDEES

Step 1: login using your registered login id to enter in the IISF platform.
Step 2: After login there will be a walk through to the main lobby of the event.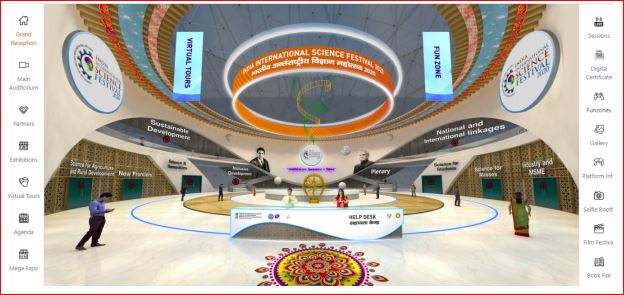 Step 3: After Walkthrough, Attendees will see a user guide on the screen. This will guide and introduce them about IISF platform.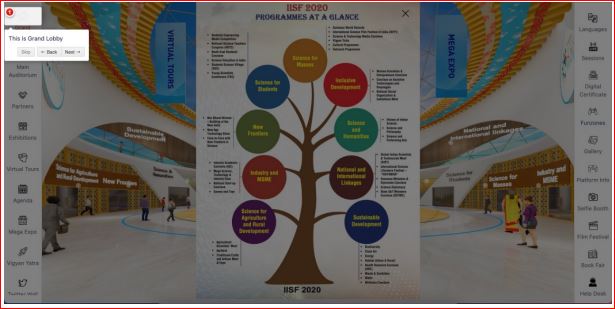 Step 4: There will also be the following image for users to know which theme has which event.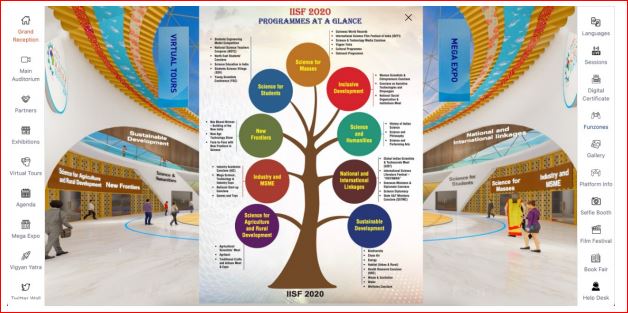 Step 5: Attendees can experience multiple features and functionalities in the grand lobby & then select their respective vertical to visit their respective event.

Step 6: After that, Attendees will enter to their respective Theme or Vertical lobby. Where attendees can select their event to attend the session.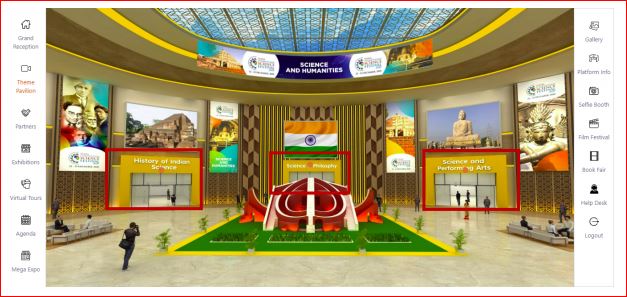 Step 7: After that, attendees will see an event stage, where sessions will be live as per their schedules. Also, there are some additional event specific feature live videos, Images, posters, etc. buttons will be available for the attendee engagement.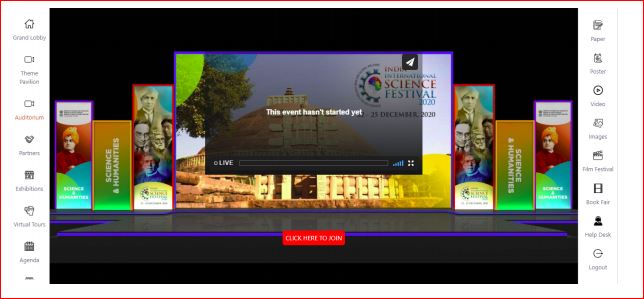 I Hope you like the Article of the Step by Step Contest – India International Science Festival 2020