PGVCL is a Power Distribution Company of while Gujarat Electricity Board having Offices at different locations in Saurashtra and Kutch regions. PGVCL offers a challenging and rewarding career to young and dynamic candidates.
Required Qualification
Full time B.E. / B.Tech. (Computer Science / Electronics & Communication) B.T. (IT) or equivalent or fulltime MCA degree of 03 years course obtained after graduation with minimum 55% in last two semesters without ATKT from Govt. recognize University with regular course.
Pay Scale
Pay scale of Rs. 45400-101200/- plus DA, HRA, CLA, Medical, LTC as per Company's Rules.
Job Profile
Implementation of various Oracle based ERP modules.
Required Experience
The candidate should possess minimum Two Years of working experience (Post Qualification) of various Oracle based ERP modules in a Company.
Age Criteria
36 years on the date of advertisement. (18/11/2021) (As per resolution of GAD dtd. 14.10.2021 one year relaxed in upper age limit i.e. 35+01).
VACANCIES:
At present, there are 02 vacancies of UR; however, it may vary according to the Company's requirement.
State Government policy for reservation of women & Domicile shall be followed.
Fees (Non-Refundable): (Only online payment will be accepted)
Rs. 500.00
IMPORTANT DATES:

Syllabus of PGVCL Junior Programmer 2021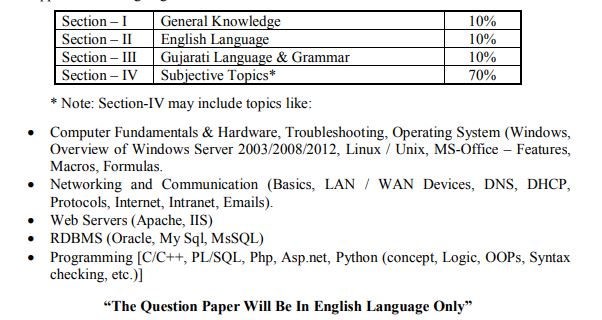 For Apply Online Click Here : https://www.pgvcl.com/recruitment/onlinereghome/index.php